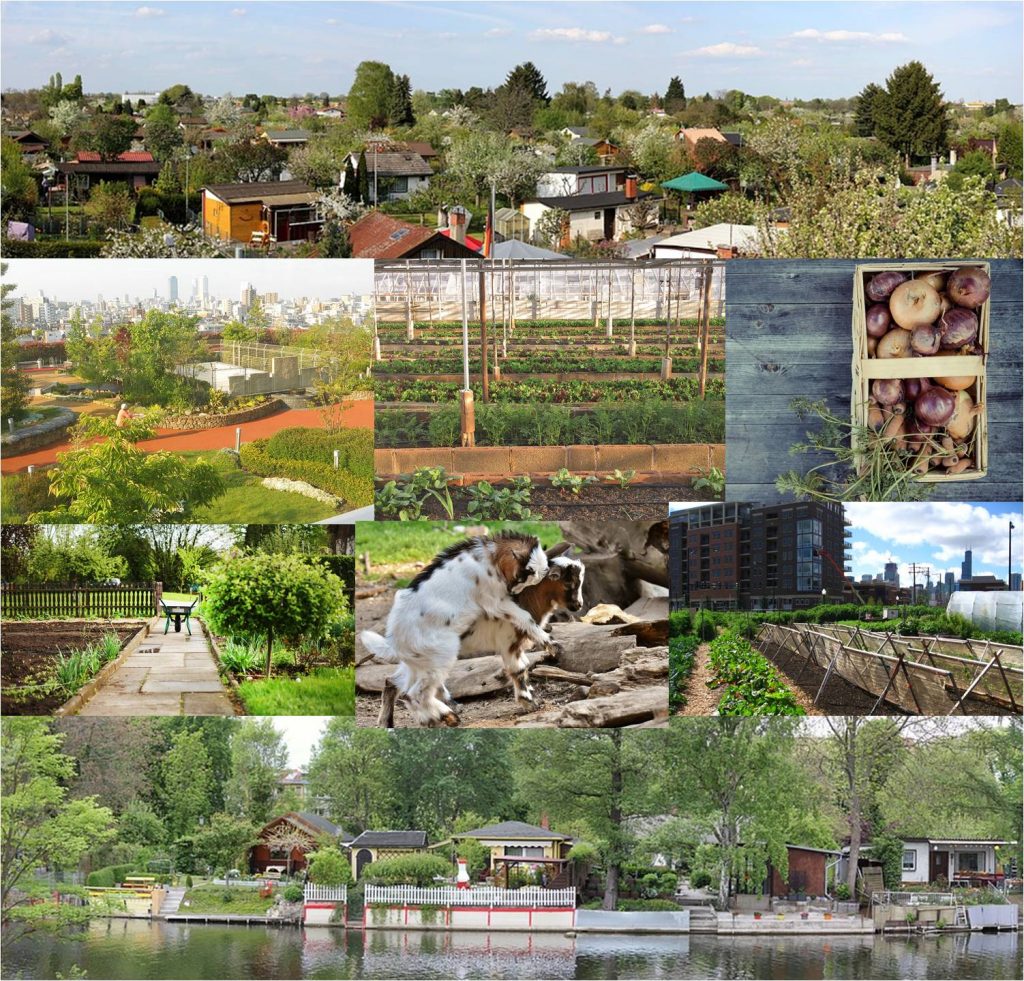 City Farms
City farms (or Urban Farms) have great potential to increase the wellbeing of a neighboorhood by using urban spaces to create a thriving community, to improve the lives of local people through services offered in the farm, producing local ecological food and most of all, to sow the seeds of cultural shift in urban environments.
Description of the problem
Nowadays more than half of the world population lives in urban environment. This inevitably increase the great distance and lack of understanding between the farmers (producers) and the customers of agricultural produce (consumers). In fact most people rarely come into contact with farms. Urban people get little opportunity to see domestic animals raised in their own environment.
We observe also that in the last decades many farms have become producers of basis products and rarely participate in the distribution. Due to this sectorialization, the relationship between the food sold and the harvest of the farmer is often lost, in a way that the consumer struggle to find the origin of the product.
Also prices paid to the producers (farms) have fallen, but at the same time prices paid by the consumers have continued to rise.
Analysis
The main aim of city farms is to improve the lives of local people through their services, facilities and vision. They run activities for people with health and social care needs, give opportunities for personal development through courses and volunteering and host other organisations with similar aims and services. One of the main ideas of the city farms is to get back to the connection we once had with nature, agriculture, ecology and food production. In New York, London and Berlin urban gardening or farming has been a common phenomenon in various forms for many years. While in many cities around the world urban farming is a recent development, cities of the caliber of New York are seeing community gardens since the 1970s. What's different in the development of new urban agriculture is that the gardens, instead of being linked to an indivuduals need, nowadays urban gardens have become in many cases a place to meet and share common activities. The newest urban gardens in New York, London and Berlin are just as colourful and varied as the cities themselves. They open themselves up to the city and encourage participation.
Risks and precautions
Legal contraints for animal breeding in urban environment
Need of high maintainance energy, costs and resources in general
Advantages
Educational value for children, teenagers and families
May act as nodes for both environmental and social connectivity
Give space for community meetings, activities and plots for vegetable gardens
Possibility to raise money with green businesses (agriculture, ecological food etc..)
Pleasant meeting point for local community members
Improve livability and wellness of neighboorhoods
Improve food resilience of beighboorhoods
Cut costs of food distribution
Case study
City Farms dates back to the 17th century, although after being pushed away from the cities during World War II, they came back, helped by the raising collective vision of a more sustainable city and food production. Some of the most interesting examples of today's Europe: Berlin (Germany):
Prinzessinnengarten
 is an urban farm nestled in the shadow of the former Berlin Wall, between unused subway stops, graffiti-ed concrete walls and aging apartment blocks.  A wide range of vegetables are grown in all sorts of recycled containers. Visitors can pick vegetables and learn about seed harvesting and vegetable pickling. The café sells snacks from the garden's produce. 
Frisch vom Dach
 is an aquaponics project starting on the rooftop of a former malt factory. The main working principle is to use nutrients from aquaculture to irrigate plants in a mostly closed loop. The 
Allmende Kontor
 is an urban garden located on the grounds of the Berlin abandoned Templehof airport. Freiburg (Germany): One the preeminent urban farms in the city is the "
lebensgarten
," or "life garden," a biodynamic agricultural project. In addition to simply growing organic produce, lebensgarten also seeks to replicate an ecosystem within its own farms, with vegetables, fruits, and animals all helping in providing ecological inputs and outputs for one another. 
Kunzenhof
is as much of an educational institution as it is a farm. The Kunzenhof's mission is to demonstrate the versatility of traditional farming, and to teach about the benefits of proper care and living conditions for farming animals. Furthermore, the Kunzenhof shows visitors the ways in which agriculture interacts with surrounding ecologies, and the ways in which this relationship can be properly cultivated. Amsterdam (The Nederlands): 
De Dierencapel Kinderboerderij
 is located within walking distance of Central Station and the Haarlemmerstraat. It is special little city farm is home to plenty of farm of animals. 
Kinderboerderij Westerpark
 is in the heart of the Westerpark. It is a popular city farm with a good variety of farm animals. The city farm organises various seasonal activities as well as hosting children's birthday parties. Copenhagen (Denmark): Østergro urban farm on a roof top in Copenhagen (600m2) above an old car auction house. Paris (France):Since the Parisculteurs project launched in 2016, 75 projects have been approved by the city of Paris, covering 15 hectares of spaces. The projects will create more than 500 tons of produce. Some examples of Urban farms: 
La REcyclerie
(Urban Garden in an Old Rail Station), Jardins Passagers de la Villette,  Funky Arty Garden (at Rue Fessart and Rue Clavel), 
Jardin Partagé Leroy Sème
, Place Frehel and Rue de Belleville,
Ferme de Paris
. London (UK) has a long list of city farms. To name a few: Hackney City Farm, Vauxhall City Farm, Kentish Town City Farm, Spitalfields City Farm, Deen City Farm, Stepney City Farm, Newham City Farm, Mudchute Park and Farm, etc. Bristol (UK):
Windmill Hill City Farm
 and
St. Werburghs city farm
are charities that provide recreation, education and therapy using food, community gardens, farming and the environment as a theme. Belfast (Nothern Ireland) : A derelict space converted to a Community Garden. The aim of this project is to enhance community cohesion and build better community relations (
Garden of Eatin' Donegall Pass Community Garden
). In Madrid (Spain), Urban Farm Schools (Granja escuelas) are becoming more popular. These are places where kids can get in contact with animals, plants and nature in general. Some examples:
Granja Escuela el Rodeo
,
Granja Escuela Giraluna
. Barcelona (Spain): In Vallcarca's neighboorhood, a self-organized & self-managed emergent actions took place as soccer field, permaculture orchard, kids playground, urban furniture, arts intervention, urban commons, and a participatory urban design process. In the United States urban agriculture has always been a part of city life, whether in the development of frontier towns or as a strategy to improve urban conditions. However productive backyards started to sprout from the 70s (city parks, sidewalks, empty lots…). The increasing awareness about climate change and industrial agriculture enhanced the local food movement that we know today. Examples of such a cultural shift are the followings:
Austin (Texas): with its YWCA community garden (since 1975) and a Sustainable Food Center (since 1993), the city is an astonishing example for sustainable thinking and planning. Community gardens produce at least 100,000 pounds of fresh food every year (including food from livestock)
Boston (Massachusetts): home to 200 community gardens with another 100 or so in local schools. Fenway Victory Gardens and the Boston Food Forest Coalition are two of the most important associations.
Chicago (Illinois): Apiaries, community gardens, farmers markets, and urban farms thrive in Chicago. Check Green Healthy Neighborhoods Plan for the last project to trasform the neighboorhoods into sustainable agricultural plots.
Cleveland (Ohio): After the Great Recession (1929) and US housing crisis (2008), lots of plot have been abandoned and left to use for  outdoor farms and greenhouse gardens.
Detroit (Michigan): After a huge decline in manufacturing industry, the city was left with lots of abandoned lots. In 2013, after the city implemented a new urban agriculture ordinance, those lots where used to produce food. Check Michigan Urban Farming Initiative.
Minneapolis (Minnesota): An urban agriculture plan was proposed in 2011. 250 community gardens and 32 farmers markets are already present in the city, as well as a pilot composting program.
New York City (New York): The city popularized the private and hotel rooftop garden as being on of the most active urban farms in the nation. Examples are massive Brooklyn Grange rooftop farm, the hydroponic wonder Gotham Greens
Portland (Oregon): Community gardens date back to the 1970s and zoning initiative to 1980s (Urban Food Zoning Code)
San Francisco (California): leader in residential composting and a hotbed for small nonprofit farms, such as Little City Gardens, Hayes Valley Farm, Backyard Harvest Project, Good Eggs, Urban Sprouts.
Milwaukee (Wisconsin):  In 2009, 53% of black men were unemployed. The non-profit urban farm Growing Power created 150 jobs for low-income citizens (prisoners included) to improve both the social and economic wellbeing of inner-city population.
Seattle (Washington): A good example of urban farming is Beacon Food Forest which is turning a piece of public land into an edible forest garden.
Around the world: Deu Horta Na Telha, São Paulo (Brazil): Roofs, balconies and paved areas across the city converted into miniature farms. Montreal (Canada): 
Alternatives' Feeding Citizenship
is a nonprofit that promotes social and environmental justice through healthy food growing. The project supports school and neighborhood gardens while engaging the community through horticultural trainings.
The People's Potato
is a neighborhood collective providing garden and greenhouse space for community members. The group maintains an educational program in the form of monthly workshops and an affordable Good Food Box program. Cape Town (South Africa): 
Abalimi
is an urban agriculture and environmental action group that supports and assists groups and individuals looking to improve their livelihoods through organic farming. Canberra (Australia): 
Canberra City Farm
 is dedicated to establish learning hubs where people can collaborate and share their knowledge about sustainable and environmentally responsible food production. Mumbai (India): Fresh & Local is an organization that use urban agriculture to improve the health and wellbeing of city's residents. The idea is to take underutilized spaces and transforms them into places of community empowered food production. Mexico City (Mexico): 
Huerto Tlatelolco
 is an edible forest created with the objective of building the local community in the city, with 45 tree varieties, a seed bank, and a large section of bio-intensive gardening. Nairobi (Kenya): 
The Mazingira Institute
provides training and support for urban farmers. The NGO has trained about three thousand urban farmers and organized youth and women's hubs.
Further information
European federation of city farms: 
https://cityfarms.org
Solution
City Farms (or Urban Farms) represent a bridge between agriculture and citizens. The farms provide an excellent opportunity for people of all ages and backgrounds from a urban environment to learn about farming and to become actively involved in the production of their food. City farms also provide all sort of services related to contact with nature, food production, courses on agroecology, renewable energies etc. depending on the context and interests of the neighboorhood.
Down links
This tool can link to
Agroecological Cooperative
and
Farmers' Markets
, as City Farms are fertile grounds for any type of alternative consumption economy and cost cutting for food distribution. Check also "Alveare che dice si" for an online alternative to Agroecological cooperative. You can get deeper also in the subject of creating a
Food Forest
.