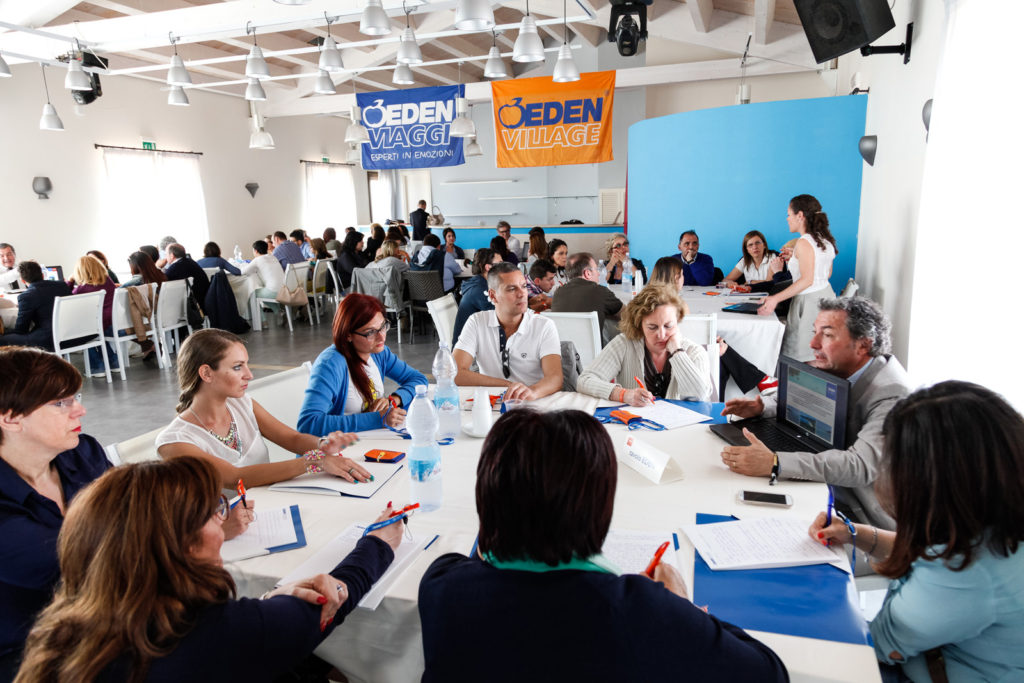 World Café
Drawing on seven integrated design principles, the World Café methodology is a simple, effective, and flexible format for hosting large group dialogue.
Description of the problem
Traditional large groups meetings are often boring and see very different levels of participation of the people present. This often prevents to discuss questions that really matter, to connect diverse perspectives, to share knowledge, etc. As a result we very often meet at a very low quality level and we obtain very low quality results.
ANALYSIS
This method is particularly useful when we'd like to use the collective intelligence of a group of people to let new ideas emerge and or harvest feelings and needs. The problem is that very often it's difficult to hear all the voices and provide everyone with adequate space to express themselves. This produces, among other things, disaffection for participation and poor understanding of the real problems and situations that are being faced. This is an easy solution, effective, with no learning curve needed for the people participating. In spite of this simplicity, the advantages and enrichments deriving from the intertwining of different ideas and positions are obtained.
RISKS
World Cafe has a very low level of risk unless we know that there is in place a serious conflict situation. In this case you must consider to use very skilled facilitator as hosts for each table. It can be risky and ineffective when use for the wrong purpose, this is not a good tool for planning or making decisions (this is a divergence tool not a convergence tool).
ADVANTAGES
Well known and experimented methodology, loads of materials available on the internet in many languages (resources, books, communities of practice, etc.). It should be relatively easy to find facilitators ready to help you. Easy to learn, low level of logistic and preparation needed. Easy to propose, does not intimidate the participants (like
Open Space Technology
for instance).
RESOURCES
Solution
Use WorldCafe when you need to organize effective meeting in a easy way, involving everyone present, activating the power of collective thinking, and creating a pleasant context for creativity, wisdom and good relationships.
Down links
If you are using World Cafe as a starting point of a process/project you may then need to implement a model of governance to use like
Sociocracy 3.0
or a methodology to help the design of the process/project like
Dragon Dreaming
or ...